What are methylcobalamin (Vit b12) tablets?
Natrol vitamin b12 tablets help support nervous system health and prevent neurological problems. Vitamin b12 is known as cobalamin and methylcobalamin and it plays an essential role in DNA production, cell metabolism, and red blood cell formation. The tablets also increase energy, reduce fatigue and tiredness, and lower depressive symptoms and enhance brain functions. Read on to learn more about natrol b12 5000 mcg tablets.
Natrol vitamin b12 benefits
Help increase body energy and physical performance.
Fight fatigue, combat tiredness, and reduce exhaustion.
Strengthen the nervous system and improve neurological functions.
One of methylcobalamin tablets uses is preventing nervous system against neurological diseases.
B12 dissolvable tablets help reduce depression symptoms and prevent depression.
Protect eyes from macular degeneration that may cause blindness for people over 50.
Maintain red blood cells and help build red blood cells in the body.
Natrol vitamin b12 tablets prevent anemia.
Strengthen bone health and prevent osteoporosis.
Natrol vitamin b12 tablets price in Egypt 2022
At Elwebkala, vitamin b12 tablets price is available for purchase for just 495 جنيه مصري per packet.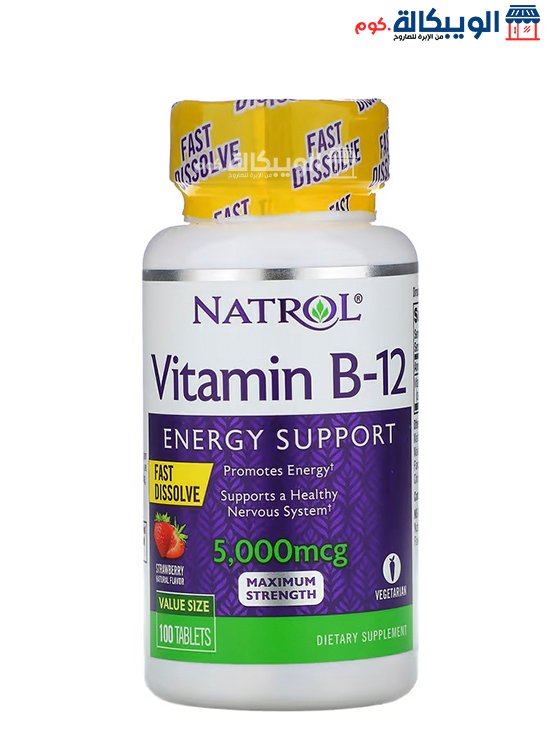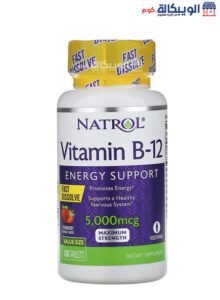 Natrol vit b 12 tablets ingredients
Contain Vitamin B-12 (as Cyanocobalamin) 5000 mcg as an active ingredient.
Other ingredients: Xylitol, cellulose gum, maltodextrin, crospovidone, modified food starch, malic acid, silicon dioxide, stearic acid, natural flavor, beet root extract, magnesium stearate, and citric acid.
Natrol vit b12 tablets dose
Vitamin b12 tablets dose per day: take 1 tablet per day or as recommended by the health care provider.
How to use vitamin b12 tablets
You don't need water to swallow natrol b12 sublingual tablets.
Don't exceed the recommended dose.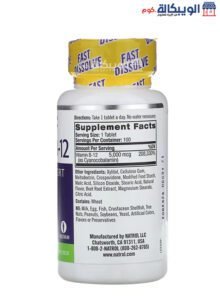 Natrol b12 tablets side effects
Natrol b12 supplement tablets may cause some side effects if you exceed the recommended daily dosage or if you're allergic to any of the ingredients, and some vitamin b12 side effects are:
Sensitive reaction to vitamin b12.
Acne and rosacea.
Diabetes.
High levels of vitamin B12 cause harm to fetuses.
Dizziness.
Headache.
Vomiting and nausea.
You may also like Puritan's Pride Vitamin C capsules 1000 mg boost immunity – 100 Capsules
B12 natrol advantages
Dietary supplement.
Vegetarian.
Dast dissolve tablets.
Treat vitamin b12 deficiency symptoms.
Contains 100 tablets, lasts for 3 months.
Natrol vitamin b12 tablets disadvantages
You should consult a doctor before taking them.
May cause some sensitive reactions for some people.
They would cause some side effects if you exceeded the daily dosage.
Instructions before using Natrol b12 tablets
Best to use with health care provider.
Consult your doctor if you're pregnant or nursing.
Kids under age 18 must consult a doctor before using.
Avoid using natrol vitamin b12 tablets if you're allergic to any of the ingredients.
Keep in a cool and dry place.
Keep out of children's reach.
Natrol vitamin b12 tablets reviews
One customer reviewed "It's my favorite Vitamin B-12 supplement so far. I'm almost vegan and need the vitamin for my health. I really like its strawberry flavor. You don't need water to take it. You can take it anytime and anywhere. How convenient it is! Good quality and good price. I've already ordered this product again. I highly recommend this product."
Frequently asked questions about vitamin b12 supplement
What is the supplement vitamin B12 good for?
Help keep your nerve cells healthy, improve your nervous system, form red blood cells, and enhance metabolism.
Can I take vitamin B12 tablets daily?
Taking 2.4 micrograms every day is safe for adults, high doses have been found to be safe. Your body absorbs only as much as it needs, and any excess passes through your urine.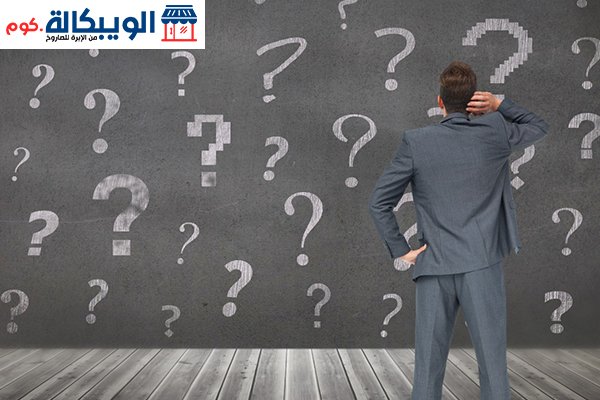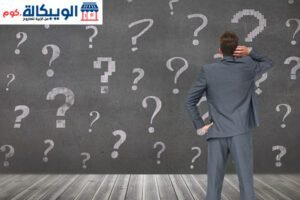 Ask for our natrol vitamin b12 tablets offers at a special price and enjoy our best offers at Elwebkala, by contacting us through the following numbers: